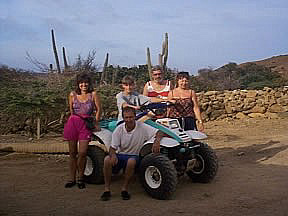 Anne, Paulie, Art, Irene
and Paul
Another of Aruba's highlights is its wild side, the northern coast. The north side of the island is virtually uninhabited except by goats and a few donkeys that roam free on the island. Roads in many places are nonexistent and when you can find one it's often a challenge to negotiate it. There have been times when we have placed rocks in gullies so that the car could cross without getting stuck. Yes, 4 wheel drive vehicles are plentiful, but what fun is that? Another avenue would be to take an excursion on a 4 wheel all terrain vehicle as we did. It's an experience and one you won't soon forget.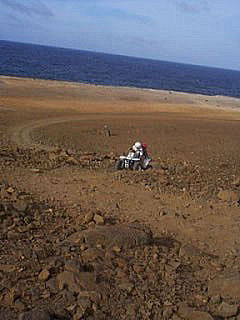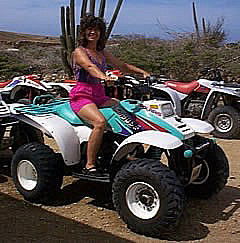 When driving on Aruba's wild side be aware that your car rental agreement does not cover you when driving on unpaved roads and strictly forbids you from such roads. That's never stopped us, but use caution and good judgment. Another thing to avoid, especially if you're in an open jeep or other vehicle, is any patch of dry red sand. No, you won't get stuck in the sand, but you will wear it and your clothes will turn the color of the sand. It's a very fine and powdery sand that forms dust clouds as you drive through it. Circling back through one of these dust clouds is an experience you will wish you never had. We know! Many beautiful beaches are located on the north side of the island, but the surf is very rough so be careful if you decide to go swimming. These are our favorite beaches for collecting weathered glass and sea shells.