Bury St. Edmunds, County Suffolk, is located north of London and reachable by train. Trains from King's Cross Station require a change at Cambridge and trains from Paddington Station require a change at Ipswich. Either way it's about two hours allowing for thirty minutes between trains at Cambridge or Ipswich. Arriving in Bury St. Edmunds St. Mary's Church is just a short cab ride away.
Bury St. Edmunds takes its name from Edmund, the last king of East Anglia, who was slain by the Vikings about 870 A.D. Edmund was buried here in the early 10th century and his tomb became the site of mass pilgrimages.
St. Mary's, the church of the Assumption of the Blessed Virgin Mary, is one of the largest parish churches in England, and the second to stand on this site. The church and its tower were built during the time of Abbot Anselm, 1120 - 1148, and dedicated by Bishop John of Rochester, 1137 - 1142. The original church to stand in this same position was demolished between 1107 and 1121 to make way for the new Abbey. Nothing visible of this original Norman church survives today. The chancel was rebuilt sometime between 1290 and 1350, and the tower was rebuilt between 1393 and 1403. Throughout the 1400's the church underwent many different enlarging and remodeling projects. While it remains substantially the same today as it was in the fifteenth and sixteenth centuries the church has been continually maintained and restored over the years. The church's pamphlet list numerous restoration projects dating back to the early 1700's.
Of interest to Drewry descendants are the magnificent tombs of Sir Robert Drury and his wife, Anne, and of Sir William Carewe and his wife, Joan, the daughter of Henry Drury. The tombs are located on each side of the sanctuary just beyond the chancel.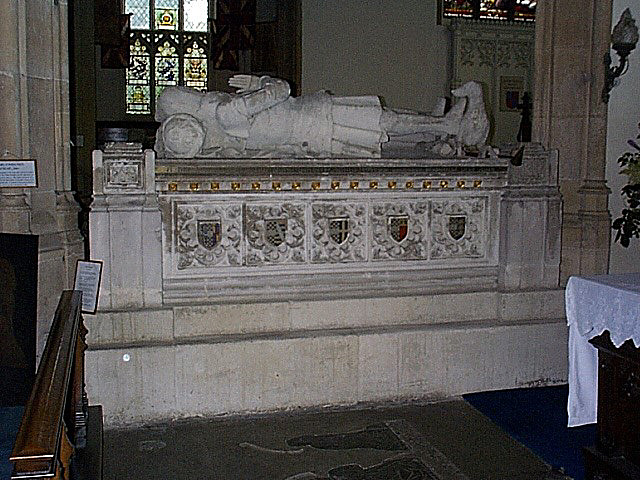 The tomb of Sir Robert Drury, d. 1536, and his first wife, Anne, daughter of Sir William Calthorpe, Knight. Sir Robert was elected Speaker of the House on October 4, 1495 and Privy Councilor to Henry VII, the son of Sir Roger Drury, of Hawsted, and his first wife, Felice, the daughter of William Denston, of Besthorpe. As you can see, the tomb is of elaborately carved white marble. Resting on top are the sculptured figures of Robert and his wife. A Greyhound is found at Robert's feet,