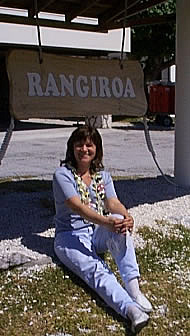 Our primary purpose for selecting Rangi, which we'd never heard of before, as a destination was for its diving. Purportedly some of the best in French Polynesia. We originally wanted Rangi to be our last stop before heading home, but it was switched to be the first island by the travel agent because of hotel availability. Worse yet, we were suppose to arrive at Papeete at 7:00 a.m. but couldn't get a confirmed flight to Rangi until 4:50 p.m. that afternoon. That would have totally destroyed any diving plans we had. We were very disappointed but had not other choices. We were advised that there was an earlier sold out flight we could go standby on. As soon as we cleared customs we headed to the Air Tahiti counter and wait listed ourselves for the earlier, 8:50 a.m. flight. Luckily we made it and we soon were on our way to Rangi, about an hour's flight away.
Landing in Rangi we had a beautiful view of the atoll and its crystal clear waters. To bad the photos taken through the airplane windows don't do it justice.
Anne at Rangiroa Airport, looking remarkably spry after 15 hours in the air and 24 hours travel time! Still smiling, that's a good sign!