The
Diving

Plongee
Tiputa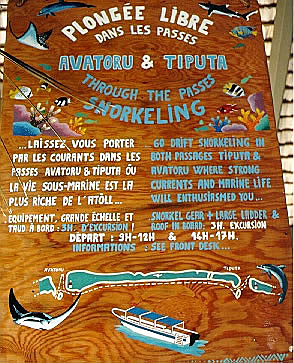 Our primary purpose for coming to Rangi was for the diving. Advertised as the best diving in French Polynesia it was a must for us. It was also advertised as "for experienced divers only," and after our first dive it was apparent why. Most of the diving in Rangi is in the passes between the ocean and lagoon where the current was strong, about 5 or 6 knots at least.

Unfortunately our trip to French Polynesia would not turn into the diving adventure that we hoped it would. The day after we arrived we made two dives, one in Tiputa pass and the other just outside along the coral reef. The dives were spectacular and exciting. On our first dive arriving at 75 feet we were immediately greeted by 10 to 15 gray reef sharks. They sniffed us out and then kept to a suitable distance throughout the dive. We looked forward to the next day's dive, but I developed a really bad head cold overnight. Diving was out of the question from then on. When I was better Anne developed the same cold so our diving was over. Don't worry, we'll go back!

To view the few underwater pictures I did get to take click on the image of the sign to your left. Read it first! Yes, the English part.