OK, who wouldn't visit a tourist trap named Hell? You have to if only to be able to truly state that you've been to "Hell." So, now I can say it legitimately. Anne and I have been to Hell.
Hell is a small town located on Grand Cayman's West End. It is the home of some rock formations that you can view by walking along an established path (see below). More importantly there is a post office where you can have all of your postcards sent home postmarked from "Hell." You can also visit one of the local tourist shops and purchase T-shirts and other little souvenirs from Hell.
OK, enough about Hell. Sorry, but it was worth the short trip and few minutes visit just to say I've been to "Hell and back".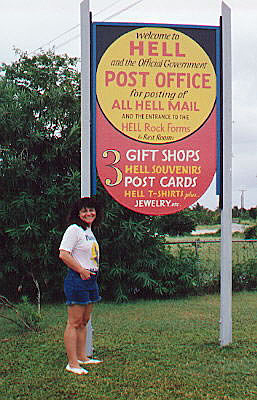 Anne, a postal employee, had
to have her picture taken by
the Post Office sign