We all agreed that February 1997 would be the date for our vacation. We were excited and couldn't wait. But, as life is cruel sometimes we had no choice but wait the year for the time to finally arrive. But there was much work to be done in the meantime. A suitable sail boat needed to be found, and a final decision on the dates needed to be resolved. When the weekend was over we all began the wait to hear from Cheryl to find out what the arrangements were.



The Grand Oasis
Thankfully we didn't have to wait all that long. Cheryl quickly found a suitable boat with crew that was available for the time we wanted, mid-February, and we began to make our final plans.

Our home for the week of sailing would be the "Grand Oasis." A 63 foot tri-marine complete with Captain Jeff Hurd (the owner), cook Mary, and first mate Lisa. To our delight and surprise there would also be a mascot, Daisy, Captain Jeff's Cocker Spaniel.

Now all that remained was the waiting and passing of the next 10 months for the departure date to finally arrive. Anne and I are not accustomed to waiting such a long time for our vacations to happen. We usually make our plans just weeks before leaving so this was a new experience for us. But we managed to pass the time somehow.


Cook Mary, First Mate Lisa and
Captain Jeff

Daisy, our mascot and
faithful companion for the week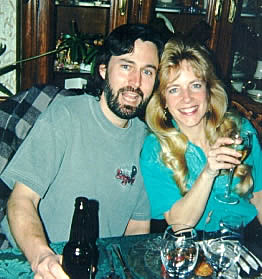 Mike and Janet


Follow
the link
below to join
us on a
wonderful
vacation
sailing around
the magnificent