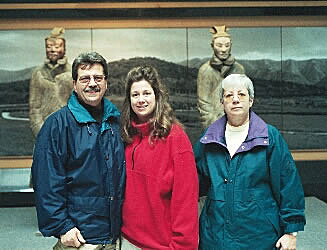 John, Alicia and Carol in front of two warriors
Having visited the pits we proceeded to the museum store in search of a book on the warriors and some T-shirts. An advantage of purchasing your book here is that you can get a copy autographed by one of the villagers who discovered the tomb in 1974. It only cost a few RMB (Chinese money) so why not? Of course I realize that the autographed book and about a dollar will get me a cup of coffee almost anywhere I want.
We managed to also buy some nice quality T-shirts that, I'm happy to report, haven't shrunk after several washings. Chinese T-shirts (as I've previously mentioned) are notorious for shrinking.
Leaving the museum we headed off to lunch at a nearby restaurant. Yes, it was approved for tourist by the National Tourism Board as every place we visited was.