Wat Yai Chai Mongkol is located not far from the ruins at Ayutthaya and is known for the large statue of the Reclining Buddha located there. This is an active Buddhist temple with many beautiful statues of Buddha and smaller shrines on the grounds. Click here to see the pictures we took in 1994.
On our drive over to the Wat we passed a tourist trap offering rides on elephants. The bus pulled over to the side of the road for a minute to allow us to goggle at the lucky ones getting to ride the elephants, but there was no time to allow us to get out and mingle with the elephants. Seeing the elephants brought back some wonderful memories of our visit to Phuket, Thailand back in 1994. The hotel we stayed at had an elephant as a mascot and we got to play with him everyday we were there. If you want to see pictures of Popeye click here and a window will open with those pictures.
After we all drooled at those lucky enough to get the chance to ride an elephant the bus continued onto the Wat. We were all disappointed but looking forward to our next adventure.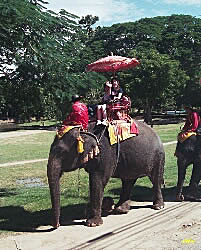 Anyone for a ride? Yes, all
of us wanted to but couldn't.
Photo by John