Pink Beach, Bonaire
Without a doubt, our dives at Pink Beach were among the best and most enjoyable while on Bonaire (in 1998 and 1999). Pink Beach, a long sand beach, is located south of the airport near the northernmost slave huts and across from the Cargill salt ponds. The sand is beautiful and appears pink when wet which, I assume, is how it derived its name. The adjacent salt ponds also appear very pinkish and may help you see the pink in the sand at Pink Beach.

Year 2000 Update! Unfortunately Pink Beach was virtually destroyed in the storm of November 1999. Most of the beautiful pink colored sand that made up the beach has been replaced by coral rock. The coral reef was also heavily damaged by the sand deposited during the storm. Anne and I still had an enjoyable dive though so don't just write it off.

Divers on Pink Beach - '98

Anne entering the water at Pink Beach - '98

You park on the side of the road and access the beach over a small coral and sand mound (above left). From the car to the water's edge is no more than 50 yards. Entry to the water was beautiful with just a few slow rolling waves to negotiate, and the bottom was sandy. A buoy 50 to 60 yards offshore marked the beginning of the drop off which begins in about 30 to 40 feet of water and continues down to about 90 feet. Anne and I were extremely happy with the tropical fish at Pink Beach, and we were briefly visited by an inquisitive Tarpon on our first dive.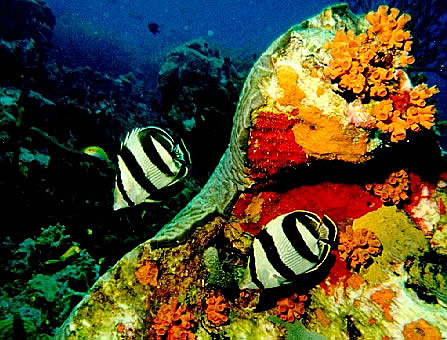 Banded Butterfly Fish - '98
| | |
| --- | --- |
| Her Majesty the Queen. Always one of my favorite subjects and, in my experience, one of the most difficult to get a good picture of. They seem to have this knack for dodging, darting and disappearing at the exact moment you click the shutter. While this is a flat on shot, it is not the perfection I had hoped to achieve. Oh, if I only had a dollar for every bad or "almost" shot I've taken of Queen Angels. I'd be a wealthy man! | Queen Angel - '98 |
| | |
| --- | --- |
| Hightailing Dog Snapper - '98 | Purple Tip Anemone - '98 |
Previous Page | Next Page

Direct Page Links

Buddy Dive Resort (Updated) | Buddy Reef (Updated) | Buddy Reef Night (Updated) | Carl's Hill
Salt Pier 1 (Updated) | Salt Pier 2 (New Page) | Southwest Corner | Leonora's Reef | Town Pier
Captain Don's Wreck | Sharon's Serenity

New Bonaire pages added July 2000

Paulie Gets Certified | Alice In Wonderland and Angel City | Playa Pabou 1 | Playa Pabou 2 | North Belhem | Heineken | The Lake

Other Vacation Pages

Vacations Paradise | Aruba | Curacao | French Polynesia

Other Annie Bee's Pages

Annie Bee's Home Page | Drewry Family History | Padi's Corner | Scuba Diving | acb Systems Management Consultants