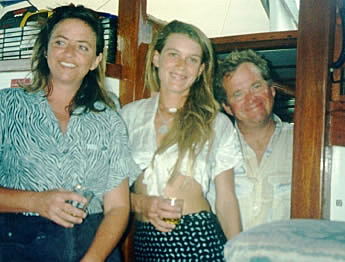 Mary, Capt. Jeff and Lisa
They're good at keeping secrets!
Can you imagine, eleven people living aboard a 63' sailboat for a week and no one spilling the beans about the surprise. I have to hand it to Capt. Jeff, Lisa and Mary, who were in on the surprise from the onset, for not giving it up. And, to show you how observant and nosy we were, Mary had been making the wedding cake for two days, a layer at a time in the tiny oven, and we didn't even notice. Nothing short of amazing could describe this!


Cheryl and Ken talking about the
big secret!

A stunned Jim thinks
about his proposal