In addition to the drinks and music the "Full Moon Party" is also known for the mushrooms. Yes, mushrooms! Supposedly these mushrooms provide a natural high and you see people selling the mushroom concoction in shot glasses to the unwary tourists out for a night's fun. I really don't think you need anything other than the drinks and the mood to get high at the Bomba Shack's Full Moon Party. Anne and I didn't try them. I've always been leery of such things ever since a coworker told me of an experience she had while traveling in Israel. They bought something to smoke and it turned out they purchased and smoked camel dun. All of them got sick and, I guess, learned a valuable lesson.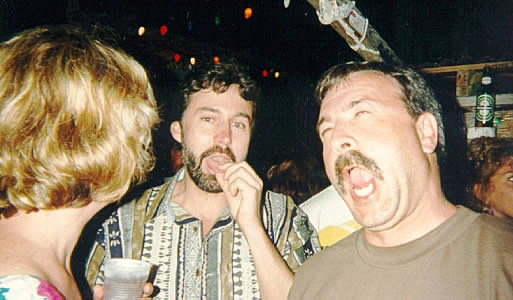 Jim, Mike and Cheryl
Maybe they're singing "La Bamba"