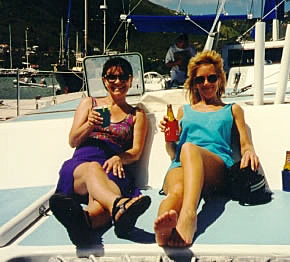 Anne and Janet enjoying a drink while
waiting to leave the harbor
Anyone considering taking such a vacation needs to consider several things before committing to such a trip. First, a sailboat is a relatively confined space ... so you better make sure that you are very good friends with those you choose to accompany you. Second, you need to understand that there will be times when there is much to do, the choices almost endless, and there will be times where things are quiet and there is nothing to do but sit back and enjoy the world that surrounds you. This is what I called the quiet time and, believe it or not, it was very enjoyable.

The Grand Oasis, being a good size, was complimented by having the space to carry additional toys to keep us busy for the week. There was a small two-man kayak, a small sailboat, scuba tanks for diving, snorkeling equipment, the dingy and, of course, lots of space to just sit back and relax, soak up the Sun or just enjoy the wonderful views. Of course, there is also the drinking to be considered. Our charter included all food (except for nights we had designated that we wanted to eat in restaurants) and drinks. Being on vacation and having a good time while being exposed to free and plentiful drinks is something you need to come to terms with. The rocking and rolling of the seas while under sail does not necessarily bode well for the heavy drinker.