Ken and I with the Great Barracuda
It was on this, the final leg of our journey that the winner of the fishing tournament would be decided. Yes, I finally won something. Isn't that amazing. Over the week I caught the most fish and on this last leg I caught the biggest fish, a rather small Great Barracuda (left) about 3' in length. Capt. Jeff graciously and delicately removed the hook and we threw him back to delight some other divers and fishermen.

Oh, I have to fess up. Ken did help me reel in the Barracuda as there was something wrong with the reel. We virtually pulled him in by hand so Ken deserves a part of the fishing tournament crown too!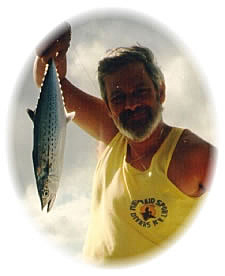 Me holding one of the
Spanish Mackerels I
caught during the week