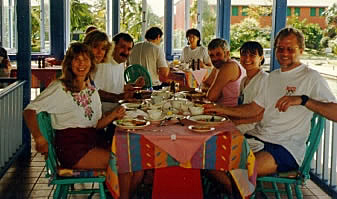 Darla, Cheryl, Jim, Art, Anne and Ken enjoying the breakfast buffet at the Prospect Reef Hotel.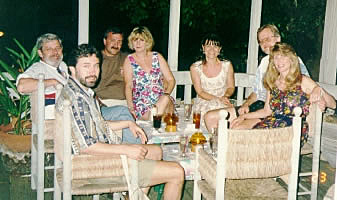 Mike, Art, Jim, Cheryl, Anne, Ken and Darla at the Sugar Mill Inn, one of Tortolla's best restaurants.
Why is it when this group gathers it always seems to be at a dinner table? We started our days on Tortolla at the buffet breakfast at the hotel.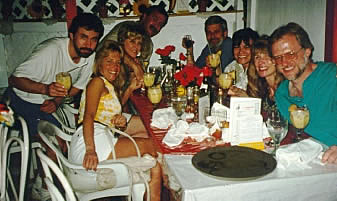 Janet, Mike, Cheryl, Jim, Art, Anne, Darla and Ken enjoying dinner at the C and F Restaurant on Tortolla.
And we ended our days sitting around the dinner table at one of Tortolla's better restaurants. Can you think of a better way to start and end a day? Not me.

I must admit the Sugar Mill Inn, Ken and Darla's choice, was by far the best restaurant we visited during our stay on Tortolla

No, we didn't just eat while on Tortolla. We took advantage of all the pleasures that the island had to offer. On our taxi ride over to meet Mike and Janet at Cane Garden Bay we enjoyed some magnificent views of the Tortolla, the Sir Francis Drake Channel and the islands in the distance.